Inox Technical Alex
Stainless Steel Constructions Florina
Inox Technical Alex undertakes responsible installation of machinery in food factories and in particular all the setup and equipment of a food factory of any kind, such as:
- dairies
- dairy industries
- wineries
- canning factories
- meat industries
- butchers' industries, etc.
We perfectly fit the construction of the machines to the requirements of your unit.
The company also undertakes the construction of all the networks for the smooth operation of a factory.
Specifically:

- Construction of food networks
- Construction of steam networks
- Construction of water networks
- Construction of compressed air networks
- Auxiliary networks
We use excellent raw materials for durable and highly qualitative
manufacture your unit's equipment and offer you high quality solutions,
utilizing the most advanced methods of modern technology.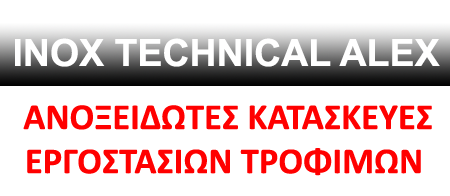 ERGATIKES KATIKIES 1 - ΑΜIDEO, Florina, 53200
2386023189, 6944571206, a.papavasiliou69@gmail.com